Just when you thought there were enough major social media platforms they go and make another one, it's not totally new but it is a new twist on an existing platform. So if you want to know what Threads is here's a quick take: Threads is essentially a Twitter clone made by Meta (Facebook) and intrinsically linked to Instagram.
Yes, that's a lot to unpack so we're going to give you our take on it and where we think it will go from here. (We'll try to not bore you with the full history of Twitter).
A brief history
On a crisp afternoon in March 2006, Jack Dorsey published the first tweet. A few things happened over the next 16 years until 2022 when it was purchased for $44 billion dollars and the new owner made some changes. It's been a transitional period with fewer staff, a new CEO, and lots of technical changes. There's also been a decline in revenue (if you care about that) and a slight drop in users (around 3% to 4%).
Not app-ending problems but certainly a weakened appearance from a branding perspective. In swoops Mark Zuckerberg, I mean Adam Mosseri, with a totally new app called Threads. Now that we're caught up, let's unpack the rest.
Why have Meta created Threads
Meta is always looking at ways to increase shareholder value and help people connect with each other because – priorities. There's no way of knowing how long they had planned a Twitter clone but there has been chatter online since [approx date] nevertheless this has potentially been the perfect time to launch a particular product and, in my opinion, a strategic masterclass in generating user adoption.
Launched by Adam Mosseri, Head of Instagram
First off, it's connected to Instagram so its visibility is less tainted by Insta's big brother Facebook. Adam Mosseri owned the launch which is only natural as he's head of Instagram which means, at least at surface value, it has some separation from Mark.
It's connected to Instagram
Secondly, you need an Instagram account to log in to Threads. So yes, a fairly deep connection to Instagram, and (because I can't help myself) I read the terms for Threads, it states that you are required to also accept the terms for Instagram. This means that 2 billion people (sort of) already have a Threads account. Estimates put the total Threads accounts near 100 million, literally a quarter of Twitter users in about 5 days.
The timing of Threads launch is excellent
Twitter has never been profitable although it has a dedicated user base and is an excellent source of information (not all good), it's had user growth slowing and no clear plan to arrest these issues and recently went through a period of long-term users looking for alternatives but not being able to find anything Twitter-like to be suitable. Mastodon appealed as a microblogging alternative as it is completely decentralised, so it was attractive to users seeking a safe place from Twitter's new overlord, however, it operates as multiple smaller town squares as opposed to one big one.
Regardless of this people flocked to it dramatically, so many in fact that it grew from 380,000 users to more than 2.5 million within a month. Its user base has been on a slow decline since the peak in November 2022 but the statement was clear, people are open to new apps and new alternatives.
Meta has just proved that they're still going strong. They have more active users than any of their competitors, of course, we have all read about TikTok as Instagram's greatest competitor but to date, Instagram has double the active users (2 billion vs 1.1 billion).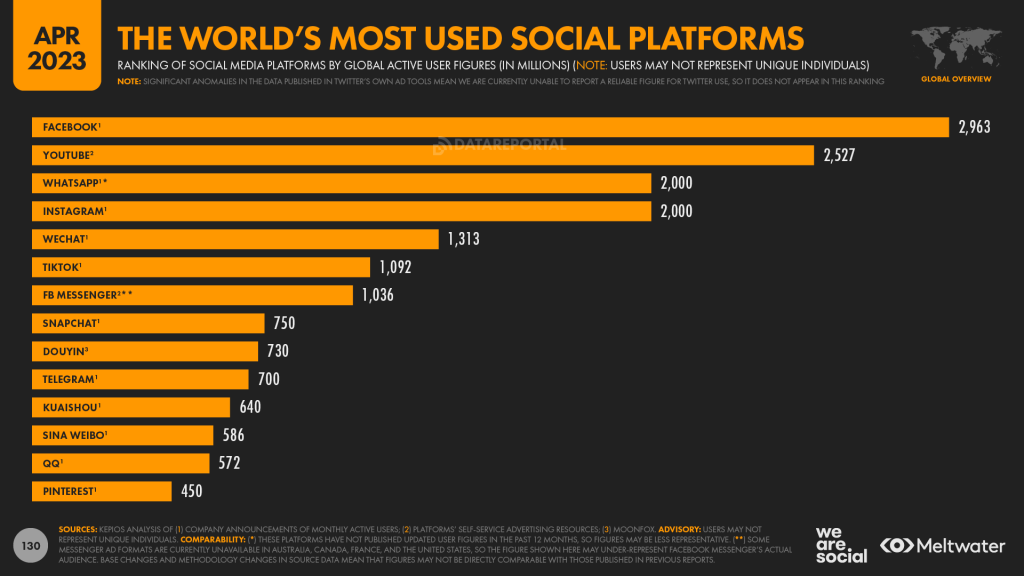 Source: https://datareportal.com/social-media-users
Will Threads beat Twitter?
We'll have to wait and see. Sure it was a successful launch but that doesn't mean the platform will succeed. This will be measured if Threads can not only maintain a healthy number of active users but grow them significantly. Zuckerberg has set a goal of 1 billion.
"I think there should be a public conversations app with 1 billion+ people on it. Twitter has had the opportunity to do this but hasn't nailed it. Hopefully, we will," Mark Zuckerberg
What does Threads mean for social media marketing?
That depends on your brand, your audience, your resources. If you are on Twitter and it was working then Threads might work for you too. If the thought of a new social platform is giving you anxiety then maybe just take a breath and feel it out for a bit before you decide. You don't have to be everywhere at once, what's important is that you focus on where your audience is and how they like to interact with you online.
From an ads perspective, it shouldn't be too long until we see Threads as another placement in Meta Ads. I expect that Meta will be careful how they introduce ads to the platform but you can bet your Facebook account on the fact that they're coming.
How are people using Threads?
Day one was all about making jokes about Elon and Trump showing up and feeling the new place out. It was kind of like being a kid again and seeing the gates fling open to a brand-new playground. Everyone rushed in and scrambled for the new equipment.
It's settled a little from then and we're now seeing more content typical of Twitter. Threads is a microblogging platform so we're seeing short posts, image and video content, links, and a sprinkling of gifs. Like Twitter, the best interactions are happening as conversations on Threads posts eg. a comment thread (such a meta name).
What happens next with Threads?
It will be interesting to see how Threads develops in the coming months and how it will evolve. We're having some fun on there with light content and humor, meeting some new people, and joining conversations. Just like at the kids' playground there will inevitably be some scraped knees and disagreements but social media is a reflection of life so this should not be a surprise to anyone.
If you're thinking of joining in, we'll see you on the swings or maybe the big slide.